1. Where was El Negro born?
Hershey, PA
Cayenne, French Guiana
Antananarivo, Madagascar
Havana, Cuba
---
2. The nickname "El Negro" was given to him before he was born and was a sign of affection
for his brother's best friend... What does it mean?
best friend who lives next door
the black
world's greatest drummer
yuckky little brother
---
3. What school did he attend?
National School of Arts in Havana
Harvard
Radcliffe
National Institute for the Criminally Insane
---
4. At age 13, El Negro was detained by authorities in Cuba for what?
smuggling mangos
doing a really bad Ricky Ricardo impersonation
playing American rock & roll music / "the music of the enemy"
dressing up as Fidel in drag on Halloween
---
5. Name the nightclub in Havana that he went to see his teacher, Enrique Pla, play?
Copa Cabana
Johnny's Dream
The Hard Rock
Gilly's
---
6. While in Cuba, he recorded many albums for a major Cuban studio.
Name the studio and who did he replace at the studio?
Ignacio Berroa at EGREM Studios
Nipper at RCA Studios
Ringo at Apple Studios
the doorman at Studio 54
---
7. With what band did he first gain international recognition as a drummer?
Gonzalo Rubalcaba and his group Proyecto
Garth Brooks
Minuedo
Marilyn Manson
---
8. His first tour out of Cuba happened because who got sick and canceled?
Elvis
Animal
Arturo Sandoval
Pele
---
9. When he arrived in New York, the first person he called was Paquito D'Rivera.
The next day, he began recording what album with Paquito?
A Chipmunk Christmas
Forty Years of Cuban Jam Sessions
Paquito's Polka Favorites
Ten Years of Pan Flute Sessions
---
10. El Negro is best known for doing what with his left foot?
left-foot-clave
mathematical calculations
corner kicks for the Cuban National Football Team
knitting
---
Bonus Question...
What is El Negro's "real" hair color?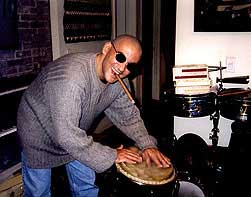 red, white, and blue
black
ummm what hair?
Clairol #13
---
Contest rules...
No purchase necessary to enter or win. Entries must be received at DrumsOnTheWeb@aol.com by 12 midnite (EST)
January 31, 2001. Only 1 correct entry per address will be accepted.
Winners will be randomly chosen from the correct entries received. Winners will be notified via email and announced in the February, 2001 issue of the DrumsOnTheWeb.com free monthly email newsletter.
5 winners will receive 1 El Negro Modern Drummer video, to be shipped in February, 2001 by Hudson Music. 5 winners will receive 3 pairs of El Negro signature sticks, to be shipped in February, 2001 by Regal Tip / Calato. Prizes will be shipped via US Mail. Customs duties, if applicable to be paid by winner.
Be assured that all information is kept strictly confidential! Your info will not be shared with anyone.