---
New
DrumsOnTheWeb.com
Contests! ...

Your chance to win FREE stuff!
---
Informal Lesson
by Robby Ameen & El Negro
Use your left foot!
OK, OK, I got the left foot going, sort of.
(Still needs some more practice!)
Now how do I use it in my funky rock band?
After you learn the clave, the next logical groove to learn is the cascara. (And if you've learned the clave with your left foot, so much the better.) Here's a cascara pattern for those of you who don't want to play just latin music. You can use your left foot and come up with a good rocking funk pattern.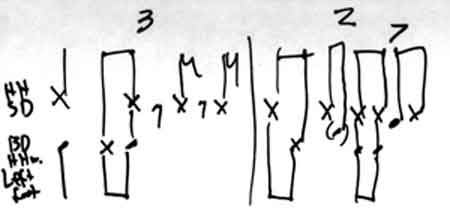 Have fun! And we'll be back...
and