Spotlight On
Sabian China Kang Cymbal
---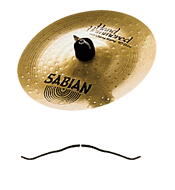 To pick one Cymbal to speak of is a difficult task. But in attempting to meet the challenge head on, the Cymbal I choose is the Sabian China Kang. I use this Cymbal in the 8 inch and 10 inch sizes and absolutely love the rich melodic texture and versatility that it provides to my kit. I am always looking for ways to compliment the melodic tendencies of any song that I am a part of and the best way that I have found to accomplish this is with a cymbal setup that allows me many subtle means of melodic color. The wonderful folks at Sabian have provided me with many great ideas for achieving this over the years. Bill Zildjian at Sabian sent me the China Kang last year while in the studio with The Green Romance Orchestra and it immediately filled in a big gap with the sound that I was trying to achieve.
When I lay into it, it's like a splash cymbal on steroids with a bad attitude yet still quite musical. When I strike it subtly it seems to dance within the music.
Whether you're a trap set player or a percussionist, the Sabian China Kang is a cymbal that is a definite addition to your sound palette. Check it out!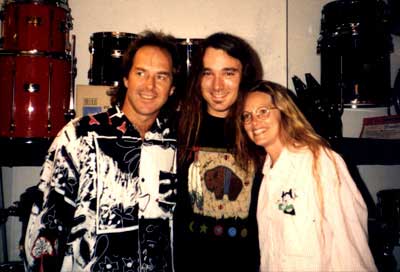 Anton Fig, Dave Abbruzzese, and Pam
hanging out after a NY clinic.
Dave has been really busy! He took on the roles of drummer, producer, and one-man record-label for his new band, Green Romance Orchestra. (Check your local music store for their latest, Play Parts I and V ...or email us if you need help finding it! Our copy of the cd, here at DrumsOnTheWeb, gets LOTS of play!) GRO is busy putting together an upcoming tour. (Be sure to check the Upcoming Shows & Clinics area of these web pages. We will post the tour dates as soon as we have them!) Dave remains extremely active, writing and working in his home studio with various artists....while searching for the right project to be involved with.
for more info on Dave & Green Romance Orchestra