---
New
DrumsOnTheWeb.com
Contests! ...

Your chance to win FREE stuff!
---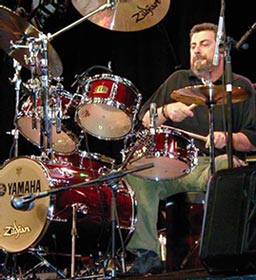 Rick Marotta
Rick Marotta is all about the groove. His ability to determine exactly how to make any musical project feel great has led to his appearance on legendary recordings by some of the world's greatest performers. A "short list" includes Steely Dan, Aretha Franklin, Carly Simon, Linda Ronstadt, Jackson Browne, Larry Carlton, John Lennon, Paul Simon, James Taylor, Hall & Oates, Stevie Nicks, The Pointer Sisters, Quincy Jones, Meat Loaf, Crosby Stills & Nash, David Sanborn, and Bob James.
Rick now spends most of his time playing with friends on pet projects and writing music for movies and tv shows such as Everybody Loves Raymond and Yes, Dear. His most recent live performances have been with Carly Simon and Bette Midler.
As a poster child for the "less is more" concept. Rick was instrumental in the development of the HipGig kit on which he performed at the 2002 Modern Drummer Festival. But don't let that kit's diminutive size fool you. It has no problem producing Rick's trademark big sound, deep pocket, and unshakable groove.
Reprinted from 2002 Modern Drummer program.